Voices of Love - New Studio Album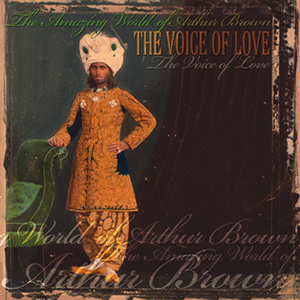 Track Listing
1. Love is the spirit
2. Gypsies
3. Kites
4. I believe in you
5. That's how strong my love is
6. The voices of love
7. All the bells
8. Shining bright
9. Birds of a feather
10. Devil's grip
11. Safe now &……?

UK Record Label http://www.cotebasquemusicgroup.com/arthurbrown.html

US Record Label http://www.zohomusic.com/cds_detail.php?cds_id=51

Order it using this link

BBC News report on Arthurs Accident!

http://news.bbc.co.uk/1/hi/england/sussex/6973426.stm

DVD News: Arthur Brown's Otherworlds - Live at the London Astoria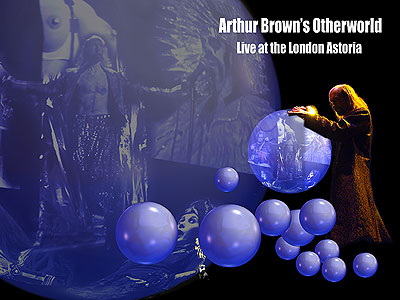 Soon we will see the release of the Otherworlds DVD!
Filmed in London, this is a 2- hour live spectacular, showcasing 3 different lineups with Arthur Brown.
"A live performance from Arthur and friends that will give all music lovers a great evening of quality viewing"

Set 1: Acoustic Aural delights from Arthur Brown with Nick Pynn and Chris Bryant
Set 2: The historic and original Arthur Brown's Kindgom Come, with the original members Andy Dalby, Michael 'Goodge' Harris and Phil Curtis
Set 3: Arthur Brown performs the surreal, complete and innovative concept album FIRE with Instant Flight

All this, plus more from special guests:
Howard Marx, Dr Space Toad Experience, Lena Lovich, Pete Brown
Phil May and Dick Taylor of The Pretty Things
New Merchandise
The Crazy World Of Arthur Brown, Journey, Vampire Suite and Brown Black and Blue back in Stock
New Fan Club CDs of Speak No Tech, JAM and Strangelands
Arthur to Compare Easten Haze Festival http://www.easternhaze.com

Manchester Dale End Benifit Show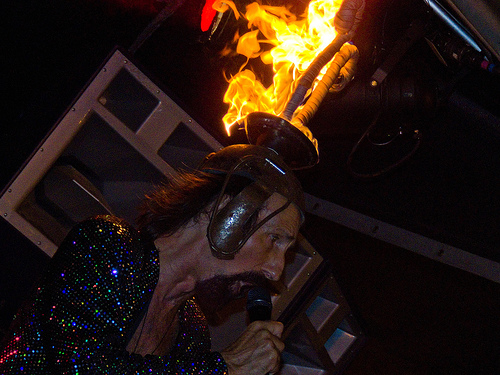 Some good photos from the Manchester show on flickr HERE Thanks to Ed for sending them

Scottish Tour

Arthur and Nick are on tour in Scotland in June

18th June Classic Grand Glasgow
19th June Cafe Drummond Aberdeen
20th June Ironworks Inverness

Manchester Special Show

Arthur and Nick with special guests will be playing a special show in Manchester on the 3rd June for the benifit of the recent fire in the city. see local press for details.

Spiritual Matters

Arthur thought man of you might be interested to find out more about his various spiritual paths, so we have a section to the site that in time will be updated with more information.


Arthur on Youtube

This week we have been putting a lot of content on to youtube, and more will follow, to see such items as the Busha Busha video form 1982, or a TV Feature from the Windsor Jazz and Blues festival in 67 and a host of other material go here http://youtube.com/arthurbrownmusic

Overdue Update

Well its all been a bit quiet, Arthur and Nick are just finishing off there album this will be released sometimes in the summer, there are a couple of gigs this weekend in the UK and one in London on the 21st April that looks very exciting.

Matthew


Some fantastic Phots from canada in 1968 have appeared on the web here

Germany Photos There are some great shots from the Spirit of 66 gig Here thank you Jean Luc

Arthur and Nick rock Sunrise In all the time that I have been following Arthur Brown last nights gig at the Sunrise Festival rank's among one of the best, 2000 odd people there probably agree with me on that! Matt PS there are some photos from last night up on the site now.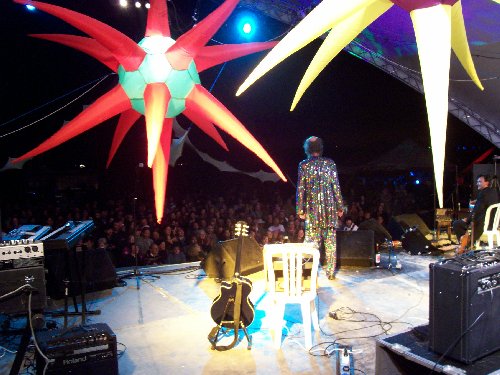 Germany Posponed The German gig with Arthur, Nick and Dick and Phil from The Pretties for July has been posponed
Very early photo A photo from 1965 of the Arthur Brown union has been found have a look here
Arthur Brown official german site www.arthurbrownmusic.de
Arthur Back from Germany A Blog entry will follow soon about the tour, also we have set up a new myspace site, please anyone that were on the old one will have to re add.

Myspace Gone? It wound appear that the official Arthur Brown Myspace page has been deleated the people at Myspace hav as yet given no reason why they have done this and we are waiting for them to restore the site.
First Photo from Germany Arthur with a lovely guitar photo thanks to Natascha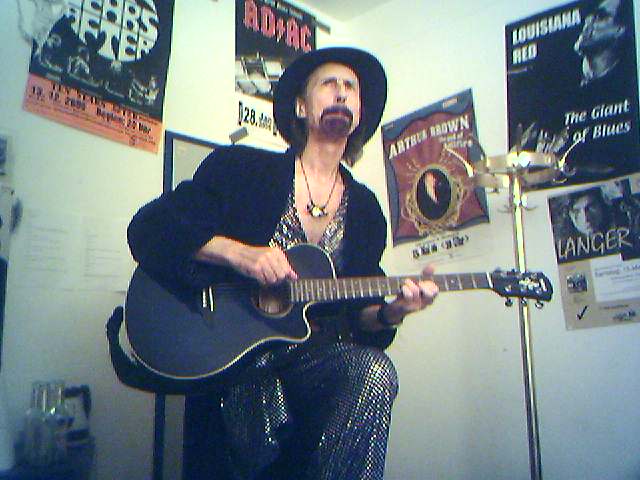 The Summer of Love 1967 BBC 2 9.10 pm on Saturday 27th May 2006 fet Arthur
Weekends Gig photos now uploaded in the new photo gallery here

More on German Tour Dates Full Details of Arthurs German tour and tickets can be found here also keep an eye on the german site http://www.maybemysoul.de Loads more UK and Europe gigs added go to the tourdates page.

Channel 4 Arthur was mentioned on another one of those crappy one hit wonders programme's showing the supersonic clip of fire from 76 if you want to see the clip have a nose at the forum. Arthur refused to appear on said programme and you can see why. Just for the record like Pink Floyd and Led Zeppelin Arthur has always been an album artist having released 25 or so albums and has NEVER released a single for any other reason than the promote the album that it was taken from.
New Blog Arthur tells of his recent happening's
Myspace Arthur now has a myspace site here includeing an inreleased version of 'I Put A Spell On You' recorded with Instant Flight in Falmouth last year. Arthurs Myspace
Arthur with the Darkness I have been sent some photos from the video shoot and I have made a little feture here

Alice and Fuzztones Arthur has been asked to appear on a Fuzztones cd, and on the Alice cooper show, in an interview with Alice.

German Fansite launched Great new German fansite run by Natascha look here http://www.maybemysoul.de/ Please not she is also listing Arthurs german tour dates
Arthurs Blog Arthur is now writing his own blog about what he is up to, you may discuses entries in the forum.

Arthur to Marry Justin from the Darkness Yes it is true, Arthur plays a cameo in the video for the next single by The Darkness The Song called 'Is It Just Me' has Arthur playing a Vicar marrying Justin to himself! You can pre order the DVD single or the CD single using the following links DVD Single
: CD Single
These take you direct to the Amazon web site and also give a little commission to us. For more info go to the Darkness official site http://www.thedarknessrocks.com

Peel played Brown first!!! The other day BBC 6 Music played as a tribute to the late great John Peel the very first edition of the Top Gear programme, the very first song to be played was Devils Grip Arthur's debut single, listen to John Peel and Pete Drummond here

London Elektricity are a well known drum and bass outfit and have released a single called Hanging Rock and it samples Arthur from Faster than the speed of light you can listen to it here and in this months Computer Music you can read all about how they recorded it, though they don't mention the track specifically just as an obscure Prog Rock album!!!

Arthur Wins Award Arthur wins best peformer in this years classic Rock Magazine awards read all about it here

The crazy life and times of Arthur Brown Is the new biography about Arthur written by Polly Marshall and is out now. Arthur and Polly are touring to promote it dates are in the gigs section for more information and to order visit Saf Publishing's website

The Committee The legendary film directed by Peter Sykes and Staring Paul Jones has finally been released on DVD for the fist time, the film has a score by Pink Floyd and in the middle features the original Crazy World of Arthur Brown peforming 'Nightmare' for more on the dvd click here

Arthur on Tour there have been a few changes also Arthur is to tour germany later this year with The Pretty Things

New forum we have a new forum, and I hope you agree in time it will prove to be much better than the old one, if you register you will have access to the downloads section where you will find exclisive multimedia content.

Rockpalast Live The German TV station WDR transmitted a recent gig by the Pretty Things and Arthur was a special guest and peformed Hoochie Koochie Man with them here is a clip
Instant Flight the band tha have been peforming with Arthur on his recent electric dates have their debut CD out now featuring Arthur on 2 tracks look them out now here

Nick Pynn has recently released a new album and it's excellant to order look here

The crazy life and times of Arthur Brown Is a new biography about Arthur written by Polly Marshall it will be out in September with a tour to promote it, for more information visit Saf Publishing's website

Arthur on DVD 2 New DVDs out featuring Arthur: Sas Band - The Show now out on DVD with a stunning rendition of Fire rrder it here From play.com and Top of the Pops 40th Anniversary has the classic video of Fire from 68 Order it here also from play.com

A Celtic Legend is aew concept album featuring Arthur playing the part of King Mark about the story of Tristan and Isolde click here For more info.

Don't buy fake CDs from Ebay Arthur has been the victim of pirate CDs made in the Czech Republic read more here
Below the Gentlemen of Colour Jimmy Carl Black and Arthur Brown Falmouth 2005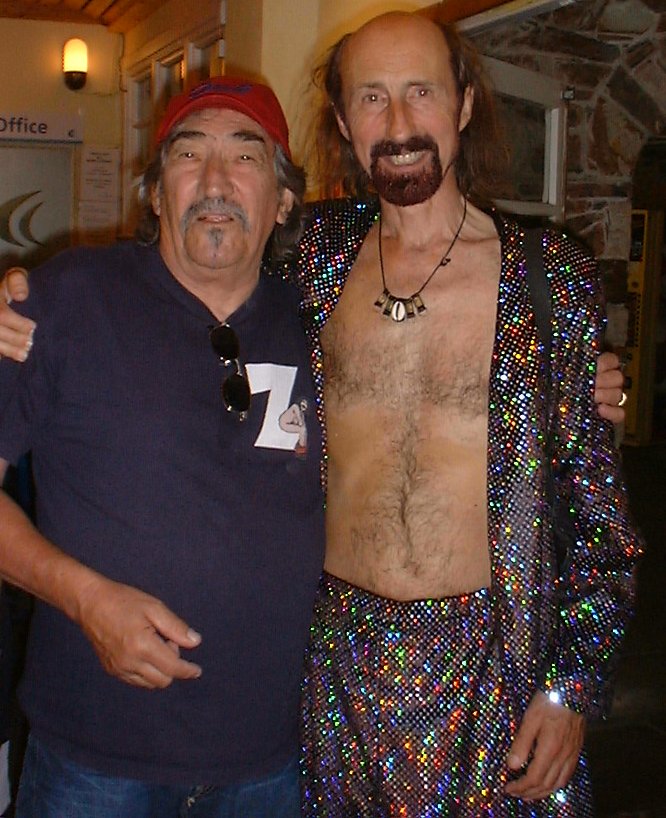 Last date of the tour with Robert Plant at the Bristol Academy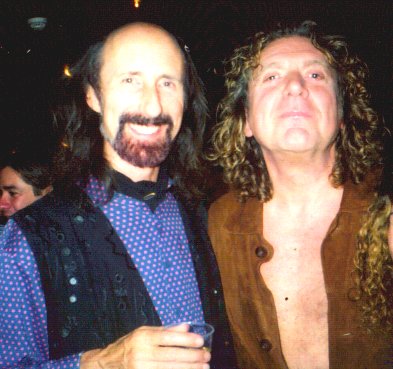 Guilfest with the Darkness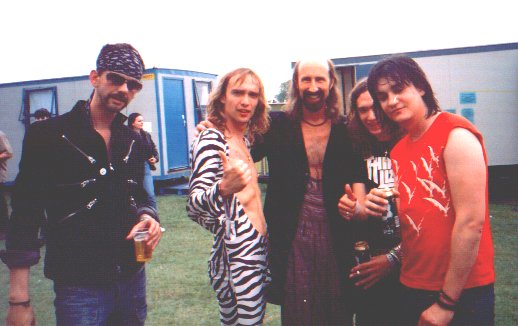 Arthur and Alice reunited after 30 years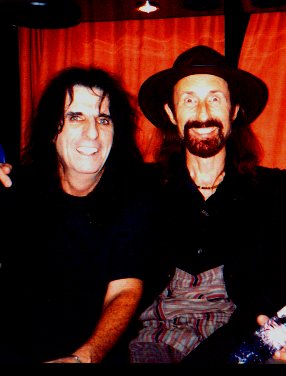 On board the mothership Hawkwind