The Arthur Brown Fan Page
For the official Arthur Brown website go to http://www.arthur-brown.com
This web site is very old and out of date and will be updated in time.
http://www.facebook.com/arthurbrownmusic for all the latest
Arthur Browns USA 2017 tour is about to kick off

15th February - Los Angeles - Regent Theatre
16th February - Las Vegas - Hard Rock Hotel
17th February - San Francisco - Slims
18th February - Portland - Star Theatre
21st February - Chicago - Reggies
23rd February - New York - Le Poisson Rouge
24th February - Austin - Barracuda
25th February - Austin - Barracuda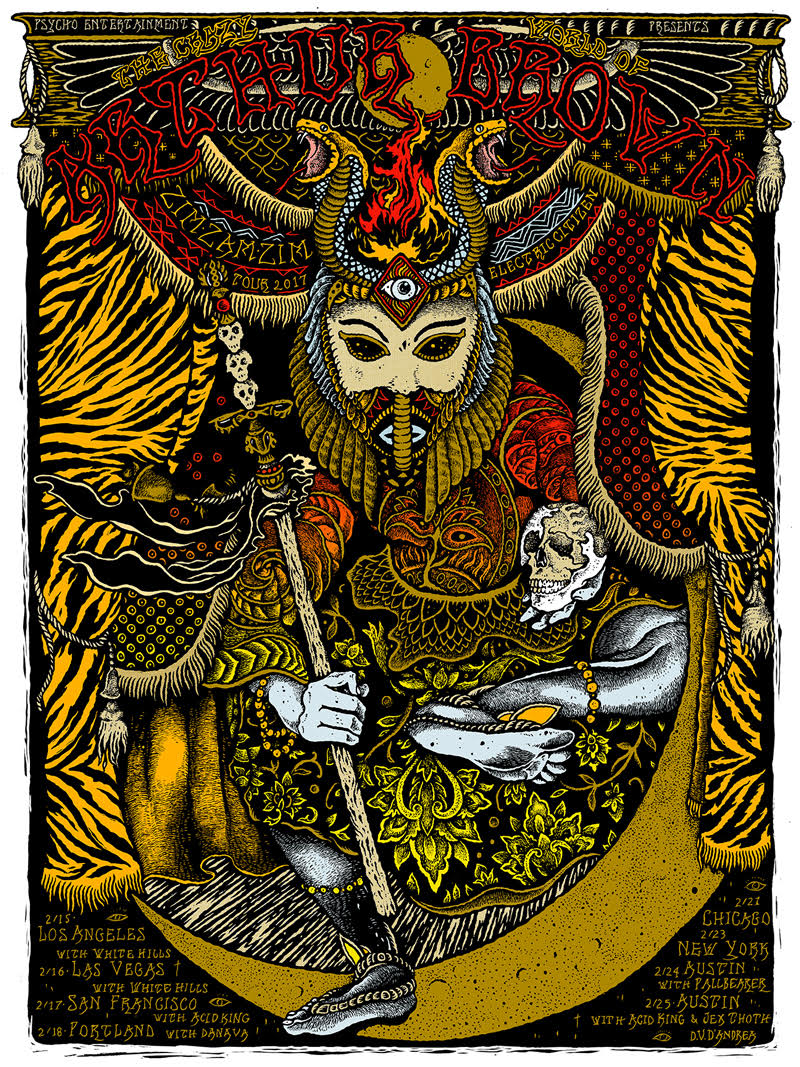 Get connected with Arthur Brown on other networks






Arthur Brown first came to prominence in swinging London in 1967, after spending some time on the Paris underground scene Arthur was quickly signed to Track Records at the instruction of The Who's Pete Townshend and released the single Devils Grip, regarded by some as the record that gave the birth of Heavy Metal.


Arthur is best thought of for his 1968 Number one single Fire that still gets regular airplay all over the world and has been covered by the likes of Ozzy Osbourne, Die Krupps, The Prodigy and The Who.


Arthur's next band Kingdom Come performed as the main act at the first filmed Glastonbury Festival in 1971 and in 1973 Kingdome Come was the first band to release an album using a Drum Machine.


Artists such as Peter Gabriel, Alice Cooper and Bruce Dickenson site Arthur Brown as a major influence on them and in this Arthur's fifth decade in music the fire is far from out.


Arthur's most recent album Voices Of Love had major critical acclaim and Arthur received the Classic Rock magazine showman of the year award.
News updated 19th July 2010

NEW NEWS PAGE
From now on all news will be posted to the news blog here http://arthurbrownmusic.blogspot.com/ You can also follow it if you are a Google user. as we can update it anywhere then it will keep you more up to date with what's going on and you can post comments too.


Jerry Dammers and Arthur ska up Fire.

To celebrate 40 years of Glastonbury Jerry Dammers brought Arthur to the stage to perform a duet of Fire.

Read the NME Article here http://www.nme.com/news/the-specials/51706

Lets be honest here, Arthur's 1971 performance headlining the first Glastonbury (the 1970 festival was called the Pilton Pop blues and folk festival) was a classic. Watch it here Here


2010 Tour Dates announced


Arthur Brown back catalogue available again

Esoteric records a spin off from Cherry Red have re issued several of Arthur's past albums they are:

The Crazy World of Arthur Brown
All 3 Kingdom Come albums
Speak No Tech & Requiem as a double CD
Brown Black and Blue
Tantric Lover

You can order all of these CDs from the merchandise page via the Amazon links that help keep this site going.

This webpage is getting a little makeover though it's going to take some time. See the News Archive Page for older news items and if you are a Facebook user then click on the link above and join us.


From the Guardian newspaper